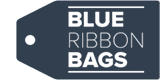 The detailed version of Baggage Protection Policy:
Please take into consideration that this service is provided on Cheapflightsfares by Blue Ribbon Bags (BRB).
After you have added a BRB service to your booking and in the event of mishandled baggage, BRB will track your mishandled baggage and speed up its return within 96 hours from the actual arrival time of your flight at the final destination.
Each purchase of BRB is per person, per itinerary booked and does not include the connections during your flight trip.
This baggage protection policy offers the 'Blue Ribbons Bags Plan,' wherein each person will be entitled to up to $1,000 by BRB in case of lost baggage.
Blue Ribbon Bags Plan – Reimbursement of up to $1,000 per person
Cheapflightsfares makes this service available to you on every flight, every airline and every destination across the world.
BRB plan can be purchased any time prior to the departure of any of your flight (outbound or inbound). However, it cannot be purchased for the connecting destinations.
Regular updates regarding your mishandled baggage reports will be sent to you on your email for your convenience.
You're not required to produce any proof of the details of the contents in your mishandled baggage.
In case the deadline of 96 hours hasn't been met and your mishandled baggage is returned after 4 days of your flight arrival, you will receive the reimbursement by Blue Ribbon Bags as per your opted plan.
This service is completely non-refundable and non-transferable. In case your flight gets canceled or changed, you're not entitled to a credit or refund. You will have to purchase a new BRB plan for your each new booking.
What to do in case your baggage is lost?
You are required to report your lost baggage to Blue Ribbon Bags within 24 hours of your flight landing.
You can do so by filing a Mishandled Baggage Report (MBR) online at their website www.blueribbonbags.com or by giving a call on the number 888-224-4243 at any hour.
Please note that you need to claim the lost baggage with your airline first before reporting it to Blue Ribbon Bags.