Have plans to rent a car?
Cheapflightsfares welcomes your booking requests, whenever you'd like, with the possibility of canceling your booking for free, at least 48 hours before the scheduled pick-up date and time. So, if booking a rental car is on the cards, have no second thoughts because you can always cancel or change your booking later with us.
Want to change your rental car booking?
If you've already booked a rental car, feel free to change the time of your travel at least 48 hours prior to the pick-up
Whatever the reason for the change in the booking, you can initiate it over the call.
Please be informed that though there will be no penalty fee for changing your rental car booking, rental rate may differ.
Have you bought Full Protection Insurance?
Cancellation of rental car booking automatic results in the cancellation of your Full Protection Insurance. Therefore, you'll receive a refund for the insurance premium paid.
Is it safe to rent a car during COVID-19?
The well-being of our customers has always been our utmost priority at Cheapflightsfares and now it's even more. We extend the same concern in ensuring that the rental car companies listed on our website also considers your safety as important.
The best way, as we all know, to prevent Covid-19 from spreading is to maintain social distancing which also means minimal to no contact with the public transport. And, cars, are considerably the safest mode of transport to go about exploring a destination, with all guidelines of social distancing being adhered to.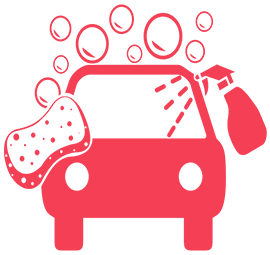 Today, all rental car companies are practicing the highest standards of hygiene to ensure that people can travel safely. Right from completing all the required procedures at the rental counter to the time of dropping off the key, all kinds of measures are taken by the rental car companies.
Precautionary measures taken by the rental car companies:
At the rental counter: PPE for customers and employees have been stocked in abundance and used at all times. Gentle reminders of social distancing have been put everywhere in the office premises and around. Protective screens have been installed around the desk to ensure safe communication. Frequent cleaning is carried out with sanitizing products as approved by the health industry.
In the car: Cars are being disinfected thoroughly post each and every rental booking, with special focus on the "high touchpoints" namely the gearsticks, seats, steering wheels and door handles. In the event, if any car is infected by the virus, then complete quarantine of the vehicle is mandated.
As the nature of the Covid-19 is unpredictable and there are regular guidelines issued by World Health Organization (WHO), the Centers for Disease Control & Prevention (CDC), and local governments around the world, the rental car companies are strictly updating their measures in time to ensure that customers travel safely, even if that means changing the upcoming booking.